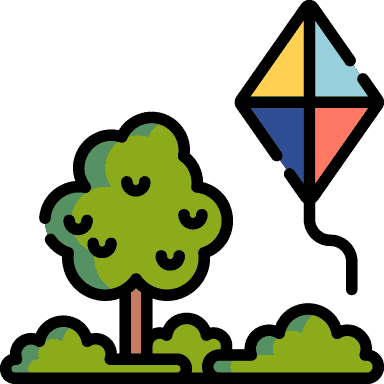 Getting outside and away from screens is vital for kids of all ages. Interacting with nature is free and provides endless opportunities for creative and imaginative adventures.
Play hide and seek.
Your kids can play this game at home or you can add some adventure by taking them to a park, where there are more options for creative hiding places.
Play tag.
Playing tag never gets old and it's a great way to burn off some energy. There are all sorts of fun variations for your kids to enjoy, including 'Freeze Tag', flashlight tag at night, and path tag in the fall.
Organize a scavenger or treasure hunt.
Make an inventory of fun things, then hide them in- or outside your house. Next, give your kids the list, and send them off to see who finds the items first. Have a prize for the winner.
Collect bugs.
Find a jar, puncture some holes in the lid, and send your kids out to catch (and then release) bugs. Lightning bugs are particularly fun at night.
Play in a stream or creek.
Streams and creeks offer your kids a way to enjoy nature, try their hand at fishing, and search for frogs, tadpoles, and more.
Play with sidewalk chalk.
Why limit your kids to drawing on paper when they can 'go big' outside on the driveway or sidewalks? Sidewalk chalk is designed to wash off after rainstorms. If you don't have chalk, some surfaces (like concrete or unfinished fencing) can be 'painted' with just water.
Play hopscotch.
There are many ways to play this simple game.
Enjoy a nature treasure hunt.
There are plenty of nature treasures kids love to search for, including seashells by the beach, pine cones in the forest, special rocks, and more. Many can be made into art or craft projects later on.
Set up a lemonade or bake stand.
Let your kids be entrepreneurs by setting up their own lemonade or bake stand, meeting neighbors, and learning how to 'keep shop'.
Create an obstacle course.
Help your kids set up cones, chairs, and other items available to create a challenging obstacle course. Then let the race begin!
Play in the rain.
Young kids love to get wet and do things 'against the grain', so let them go outside to stomp in the puddles and play in the rain. Mud puddles can be equally enticing once the rain stops.
Have a water balloon or water blaster fight.
Enough said!
Make a homemade slip 'n' slide.
Cut up some heavy duty plastic bags or use plastic sheeting to make a water slide at home. A hose, a smooth hill, and some dish soap make for a fun ride for kids of all ages!
Run under a sprinkler.
Every kid loves running under the sprinkler on a hot summer day.
Visit your local fire station.
One of the first things most kids love is the firetruck. Arrange a trip to your local fire station to meet the fire fighters, who will often give a tour of the fire engine and may even hand out some fun takeaways. Many fire stations host annual open days for Fire Prevention Week, which occurs in early October each year.
Visit a construction site.
If your kids love playing with hammers or watching big machines, take them to a local construction site to see everything in action. Just be careful and be mindful of safety precautions.
Build a sandcastle or sculpture.
The sandbox and the beach offer plenty of simple and more ambitious building activities with wet sand and some utensils.
Organize a neighborhood Olympics.
Bring together a group of kids of similar ages and organize different athletic challenges with prizes or home-made medals for the winners.
Go on a bike ride.
A bike ride is great exercise for kids and grown-ups alike, the perfect way to explore the outdoors together, or to reach another destination for more fun and activity.
Take a hike.
Hiking is a great workout and a way to explore more interesting scenery than your family will find along a path or sidewalk. Put on some good shoes, grab some water, and hit the trails together! Never hike alone.
Go swimming.
Visit a community pool or a nearby lake or river for some summer fun in the water. Be sure to heed any safety warnings.
Fly a kite.
Let the wind be your adventure; go fly a kite!
Visit a nature center.
Park systems often have nature centers that offer free educational programs, as well as sites to explore nature and wildlife.
Go to the zoo.
If your zoo isn't free every day, inquire about special events or other programs that might be.
Pitch a tent.
You and your kids don't have to go far to enjoy a change of scenery. Consider pitching a tent in your backyard. Don't forget the camping adventures like cooking out, roasting s'mores, playing flashlight tag, and telling spooky stories!
Go stargazing.
There's amazing beauty right above you most nights! Lay down a blanket and look up at the stars together. Try to recognize different constellations in the sky. If there's an observatory or planetarium in your community, ask if they offer free events.
Feed the ducks or birds.
Go through your kitchen cabinets, fridge, and freezer. Oats, corn, defrosted peas or corn, and limp lettuce are more healthful than old bread or crackers. You can encourage wild birds to your garden by scattering seeds and, especially in winter, by making easy 'fat cakes'.
Enjoy a free concert.
Many communities have free concert series for kids and/or adults. Look to musical venues and parks for listings.
Be a photographer.
Practice and develop photography skills, perhaps using an old camera if you're teaching your kids. Look in advance at photography of similar scenery, encouraging how to correctly focus, frame, and capture an image.
Go on a picnic.
Pack a meal and go on an adventure. Meals can be so much more fun in the park, woods, by a lake, stream or river, or even just in your own backyard.
Garden.
Buying a few seeds can create a full summer of gardening activities, teaching yourself and your kids how to grow, tend, and harvest a garden. Growing herbs, fruit or vegetables doubles the fun, as your family and friends get to enjoy eating what you grow.
Paint garden rocks.
Find some medium sized rocks and your kids can paint them with faces and designs. They can then be used as indoor or outdoor ornaments, and are a much prettier way of labelling plants than the cheap plastic tabs that plants often come with.
Pick flowers.
Your kids can pick flowers from your back yard to make a bouquet to enjoy at home or give to someone as a gift. You can also teach your kids how to dry the flowers or press them for long-term enjoyment.
Go fishing.
Spending a day on the water can be fun, and you might just have dinner for free! Note that most states require a license to fish public waters, and remember to teach your kids basic water safety.
Exercise and get fit.
There are plenty of healthy activities you or your kids can enjoy without going to the gym. Go walking, running, hiking, biking, jump rope, play tag, do push-ups … the list goes on.